Advanced Integrated Parallel Controller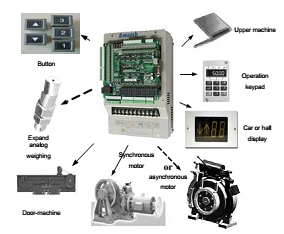 System Configuration
Features:
Abundant door function setting can satisfy the goods lift's needs for the variety of the door control.
Practical and reliable power failure emergency application scheme, which can set passengers free automatically when power failure occurs.
The default is popularization, reducing the setting of vary application as much as possible.
After the appropriate settings in the factory, it can realize the zero parameter debugging on the spot.
Direct stopping function makes it more comfortable to take and more effective to run.
Over short floor running without special debugging. Supplemented by the pre-opening module, it can easily fulfill the functions of pre-opening and re-leveling after opening.